Description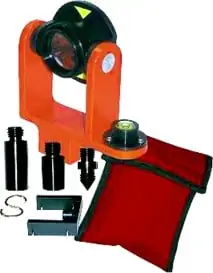 The GeoMeasure 25 mm Prism System is a comprehensive solution that provides all the necessary components for accurate and reliable prism measurements. With its robust construction and versatile accessories, this prism system offers unparalleled convenience and performance.
At the heart of the system is the 25 mm metal prism itself. Unlike prisms with plastic components that are prone to breakage, this prism is built entirely from metal, ensuring exceptional durability even with repeated use. Designed to withstand harsh conditions and rough handling, the prism's tilting mechanism is constructed as a solid piece of metal without any weak points or welds that could compromise its integrity. This rugged design guarantees the prism's longevity and reliability, making it an ideal choice for demanding fieldwork.
In addition to its sturdiness, the GeoMeasure prism also boasts a built-in level. This integrated feature allows users to ensure accurate and level shots, minimizing measurement errors and maximizing the system's performance. With the prism's built-in level, you can have confidence in obtaining precise measurements consistently, saving you time and effort during your surveying tasks.
To enhance the versatility of the prism system, a range of accessories is included in the package. These accessories enable seamless integration with tribrachs and rover poles, expanding the system's compatibility and adaptability. GeoMeasure tribrachs and rover poles are fully compatible with the tilting prism, thanks to the provided adapters. This compatibility allows you to easily connect and use the prism system with existing equipment, enhancing its usability and flexibility in the field.
If you have any inquiries or need further information about the GeoMeasure 25 mm Prism System, our dedicated sales team is readily available to assist you. They possess the expertise and knowledge to address any questions or concerns you may have. By reaching out to our sales team, you can gain a deeper understanding of the system's capabilities and explore how it can meet your specific measurement needs.
In conclusion, the GeoMeasure 25 mm Prism System offers a comprehensive and reliable solution for prism measurements. With its durable metal construction, versatile accessories, and compact design, this system provides professionals with the necessary tools to achieve accurate and precise results in various surveying applications. By investing in this package, you can streamline your measurement processes and enhance your productivity in the field. Contact our sales team today to learn more about this exceptional prism system and how it can benefit your work.