Description
GeoMeasure Quick Release Adapter
Are you tired of the hassles and risks associated with detaching your antennas from your surveying pole? Look no further than the GeoMeasure GPS Quick Release Adapter, the game-changing accessory designed to revolutionize your fieldwork experience.
At GeoMeasure, we understand the demands of professionals in the geospatial measurement industry, which is why we've developed this innovative solution to simplify your workflow and enhance safety.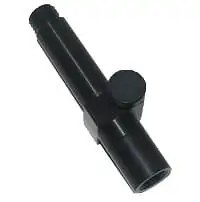 Our GPS Quick Release Adapter is strategically positioned at the top of your pole, ensuring it won't interfere with your work and won't add any noticeable weight to your equipment. We've prioritized a compact and lightweight design, allowing you to work comfortably and efficiently even during long days in the field.
Safety is paramount, and that's why our adapter boasts smooth milled edges, meticulously crafted to prevent any snagging or catching on your pole. This feature not only optimizes your workflow but also eliminates the risk of dropping your valuable equipment—a common headache in the industry. Say goodbye to costly antenna repairs and replacements due to accidental drops.
One of the most significant advantages of our quick release adapter is the time it saves you. No more tedious unscrewing of antennas from the pole. With a swift motion, you can detach your antenna, reducing downtime and ensuring you stay on track with your project schedule.
Compatibility is another key highlight of our adapter. It seamlessly integrates with poles featuring a 5/8″ thread—a standard size in the industry. This means you can effortlessly incorporate it into your existing equipment setup without the need for extra modifications or adapters.
In summary, the GeoMeasure GPS Quick Release Adapter is the ultimate companion for geospatial measurement professionals. Its intelligent design, lightweight construction, and compatibility make it an invaluable addition to your toolkit. By enhancing efficiency and safety in the field, this adapter not only saves you time but also safeguards your antennas from damage.
Upgrade your fieldwork experience with GeoMeasure's Quick Release Adapter, and discover a new level of convenience and security in your geospatial measurement endeavors. Make every surveying task smoother, faster, and safer with our innovative accessory.