Description
GeoMeasure Female End Quick Release Adapter
The GeoMeasure GPS quick release adapter is a valuable tool designed to enhance the efficiency and safety of antenna attachment and detachment in various applications. This adapter is specifically engineered to address common issues associated with antenna handling, such as potential damage caused by drops and the inconvenience of unscrewing antennas from poles manually. Let's delve into the key features and benefits of this adapter:
Effortless Antenna Reattachment: The primary function of the GeoMeasure GPS quick release adapter is to simplify the process of reattaching antennas to your pole. Instead of laboriously screwing and unscrewing the antenna, you can now quickly and easily snap it into place, saving you time and effort in the field.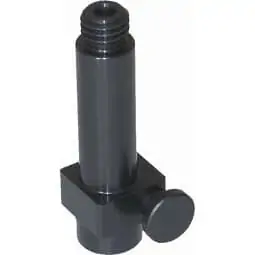 Durable and Compact Design: The adapter is built to withstand the rigors of outdoor use. Its robust construction ensures it can endure challenging conditions while remaining lightweight and unobtrusive. You won't even notice any added weight to your pole when using this adapter.
Enhanced Safety: One of the standout features of this adapter is its smooth milled edges. These edges prevent the adapter from getting caught on the pole during antenna release, minimizing the risk of accidents. Dropping antennas can lead to costly repairs or replacements, and this adapter helps you avoid such scenarios.
Risk Reduction: As mentioned, antenna drops are a significant concern in the field. With the GeoMeasure GPS quick release adapter, you can significantly reduce the chances of dropping your antenna. This reduction in risk translates to lower repair costs and improved productivity as you won't need to constantly worry about antenna damage.
Wide Compatibility: The adapter is designed to fit poles with a 5/8″ thread, which is a standard size for many surveying and GPS equipment setups. This compatibility ensures that it can be seamlessly integrated into your existing equipment.
In summary, the GeoMeasure GPS quick release adapter is an indispensable accessory for professionals working with GPS equipment and antennas. Its thoughtful design, ease of use, and durability contribute to smoother operations in the field while reducing the risk of antenna drops and associated damage. This adapter is a practical solution that simplifies the often cumbersome task of antenna attachment and detachment, ultimately improving efficiency and safety during your workday.