Description
The Geo-Measure Optical Plummet Tribrach
Introducing our Geo-Measure Optical Plummet Tribrach, specifically designed for surveying engineers seeking precise sub-millimeter positioning with minimal effort. Built to withstand years of rigorous use, this durable tribrach ensures seamless return to the same position time and again.
With the Geo-Measure Optical Plummet Tribrach, placing your survey instrument on a tripod becomes a breeze. Whether you're working with a total station or a prism assembly, our tribrach guarantees sub-millimeter precision by simply loosening and re-tightening the locking handle. Equipped with a twist-focus (2.5x magnification) and leveling screws with a center line, achieving accurate measurements has never been easier.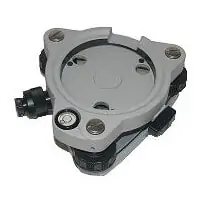 Designed for user-friendliness, the tribrach features three easily adjustable legs that can be effortlessly controlled with one hand, allowing you to quickly ensure perfect leveling for your receiver or equipment. The highly visible level eliminates any concerns about equipment misalignment, while the optical plummet boasts a convenient focus aperture adjustment to keep your target in clear focus at all times.
Crafted with a sturdy metal construction and metal moving parts, our tribrach guarantees longevity even with repeated use. Say goodbye to worries about plastic components breaking down over time—this tribrach is built to last a lifetime.
For added convenience, our Geo-Measure Optical Plummet Tribrach is fully compatible with the GeoMeasure Rotating Tribrach Adapter with Brass Insert, providing a comprehensive and reliable solution for all your surveying needs.