Description
Zoom 90 Robotic Total Station
The GeoMax Zoom90 Robotic Total Station is a top-of-the-line solution designed to redefine the surveying experience. It's not just a tool; it's a concept built around the core principles of saving time and money while boosting productivity and accuracy to the maximum. The Zoom90 offers a whopping 20% increase in automation performance, revolutionizing the way surveyors approach their tasks.
Here's why the GeoMax Zoom90 stands out as the ultimate one-man system:
Time-Saving Efficiency: With the Zoom90, you can significantly reduce the time spent on surveying tasks, eliminating the need for tedious procedures that often consume precious man-hours. This results in a substantial increase in overall efficiency.
Cost-Effective: The Zoom90 is designed with the aim of saving you money. By integrating seamlessly into existing survey software, it avoids forcing you to make unnecessary additional investments. This robotic total station works harmoniously with your existing equipment, so you don't have to spend thousands of dollars on costly upgrades. It's a solution that simply works straight out of the box, enhancing your workflow without breaking the bank.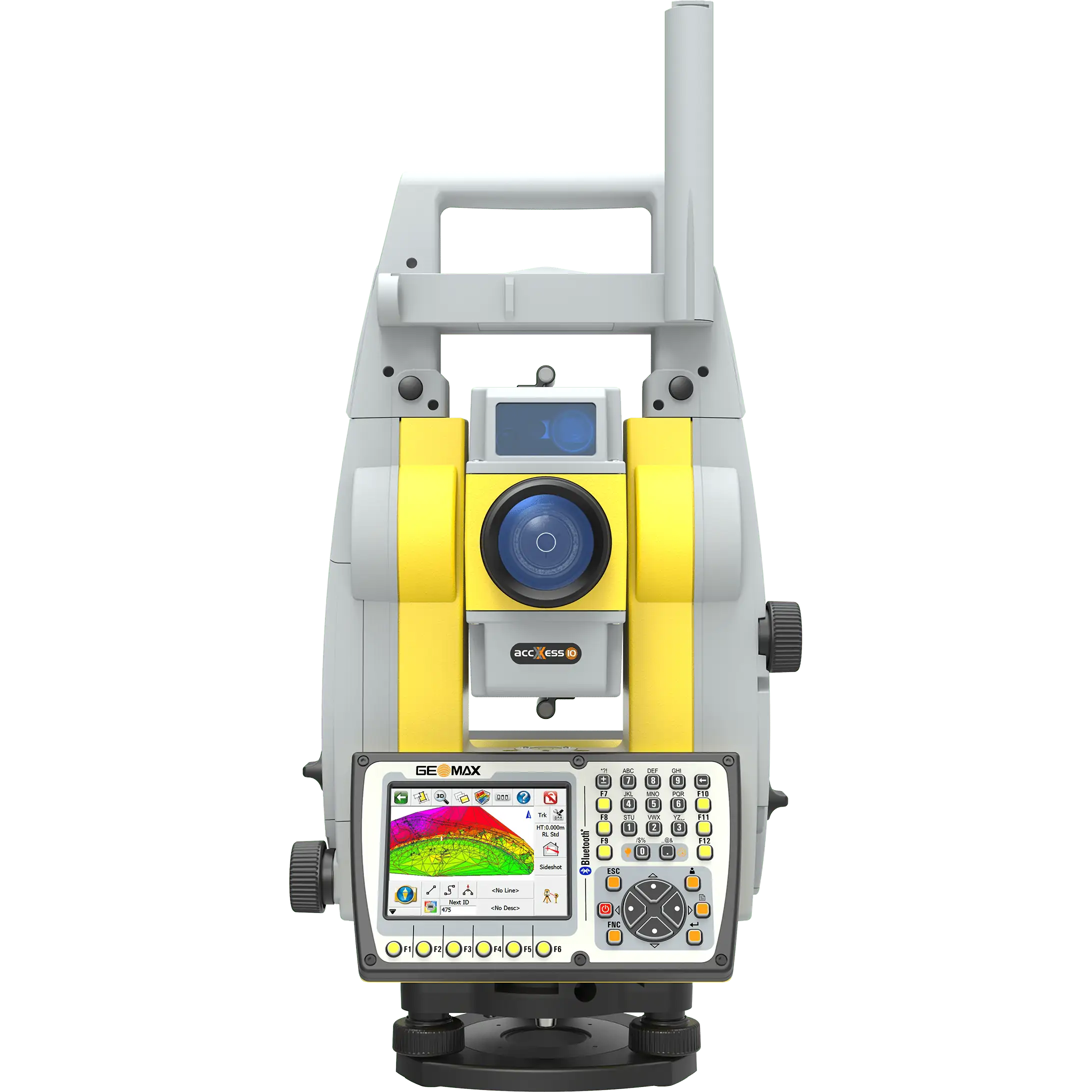 STReAM360 Capability: The Zoom90 introduces the STReAM360 capability, which streamlines your surveying tasks and reduces common challenges associated with other robotic total stations. Here's how it works:
Scout: The Scout function enables rapid scanning of the entire work area to identify the target. No more waiting for minutes while the total station establishes a locked position.

TRack: Once locked onto the target, the Zoom90 efficiently tracks it, even at high speeds of up to 90 km/h and from a distance of 100 meters from the station.

AiM: With AiM, there's no need to peer through the telescope. The robotic total station automatically takes the shots you can rely on, making the surveying process quicker and more precise.
accXess EDM Technology: The Zoom90 is equipped with accXess EDM technology, allowing you to take reflectorless shots out to an impressive 500 meters. Regardless of the distance or environmental conditions, this technology ensures accuracy and reliability in your measurements. The robot has onboard technology to adapt to changing conditions and deliver the precision you require.
The GeoMax Zoom90 Robotic Total Station redefines what's possible in surveying, offering efficiency, cost-effectiveness, and accuracy all in one package. It's the ultimate tool for surveyors who demand the best in their equipment, providing the capabilities to enhance your performance and streamline your workflow.