Description
GeoMax has been providing many of the most popular optical instruments in the surveying industry since 2007. Instruments like the Zoom10 and Zoom90 have become near ubiquitous on many sites since their introduction. GeoMax provides solutions for a variety of different industries, including construction, survey, mining, inspection and more. With GNSS and optical instruments, you can always find a solution that meets your needs.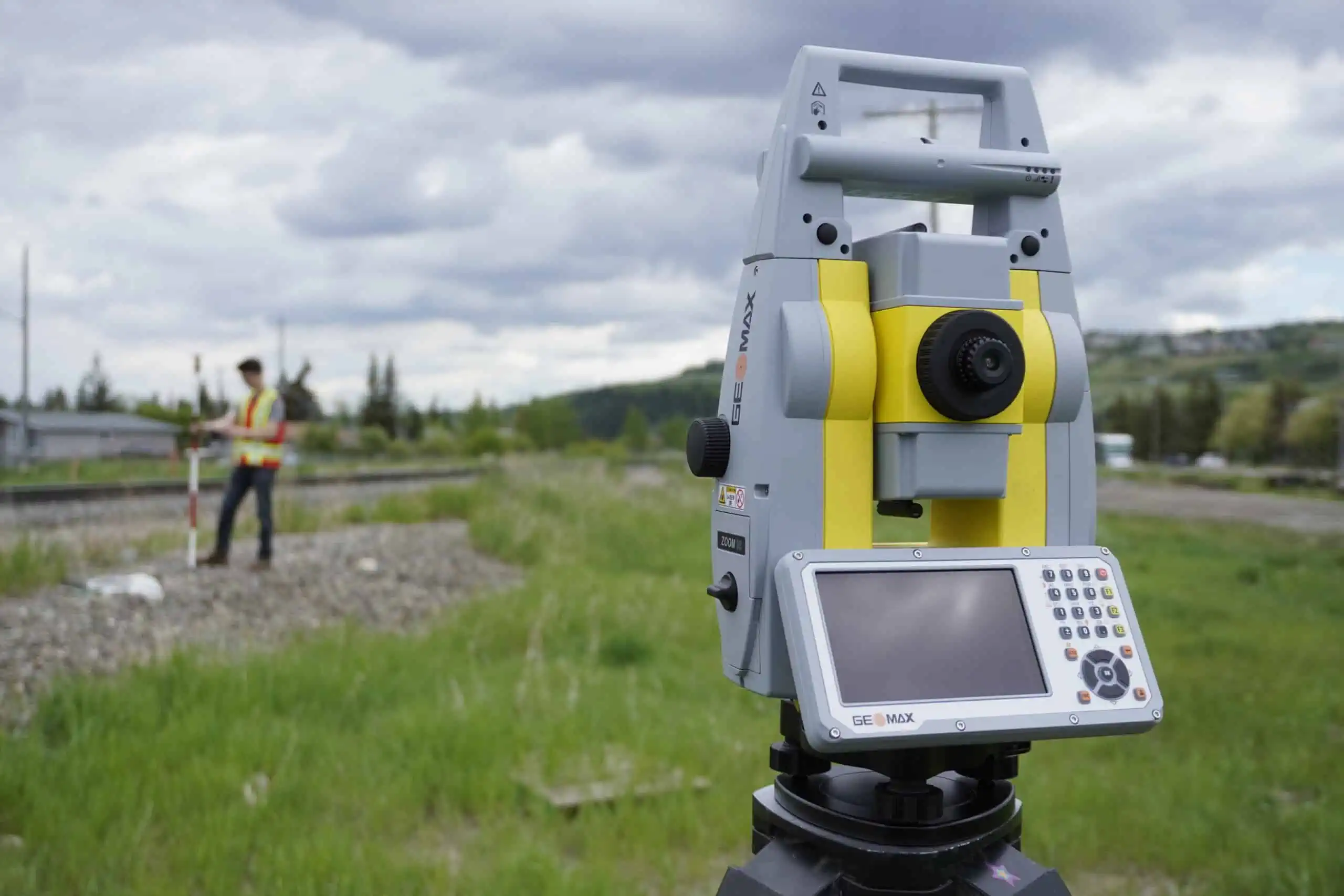 The GeoMax Zoom95 is the newest robotic total station from GeoMax. Following up from the very successful Zoom90 robotic solution, the Zoom95 takes everything that the Zoom90 did great and improves on it. A robotic total station is perfect for those looking to streamline their optical workflow and save on man hours. With a robotic total station you can turn a two man operation into a one man operation. This is the perfect solution for those that run GNSS equipment, but are working areas where GNSS signals are not available. 
Accuracy Options" 1″,2″, 3″ and 5″
Range: Up to 5300 m with Prism, 500 and 1000 m Reflectorless options available
Bleutooth Range : 800 m
Max Speed: 90 km/h
The GeoMax Zoom95 is designed to be flexible and easy to use. That is the Zoom95 can be used in several different software packages including GeoMax's own X-Pad and MicroSurvey's FieldGenius. When paired with a data collector like Juniper's Mesa 3 you get a power ful field solution that can meet all of your needs. 
The Zoom95 leverages GeoMax's STReAM360 technology, making the robot one of the fastest on the market to aquire, track and lock your prism.
Scout: A vertical laster fan is emitted from the instrument to quickly find the prism.
TRack: Once aquired the prism is continuously tracked. The Zoom95 can track prisms moving up to 90 km/h.
AiM: The Zoom95 accurately aims at the prism without any need to look through the telescope.
Juniper Rugged Data Collection
Juniper Systems has been providing robust, reliable and rugged data collectors for the surveying industry since 1993. Many of the most popular designs that you know and love, are likely originially Juniper data collectors. This includes the popular Carlson Surveyor+ and Surveyor 2 data collectors, which are rebranded Juniper Allegro data collectors. Located in Utah, Juniper data collectors are both built and serviced within the United States, which means you get support and service in your time zone, there is no need to send anything overseas. 
Juniper strives to provide a hassle free, and easy to use data collection solution that can be customized to meet your needs. With a variety of different sizes, shapes and operating systems, you can find the data collector that meets your needs. This is all backed by their Juniper tough build quality, that ensures your data collector will stand up to whatever abuse you throw it on site.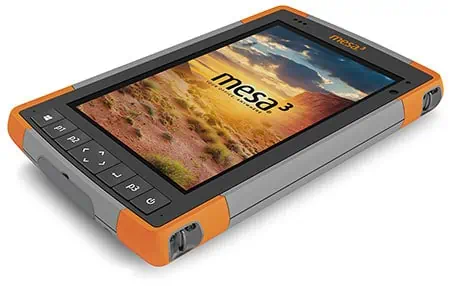 The Mesa 3 is a powerful handheld tablet that allows you to take the office with you and into the field. With a full Windows 10 operating system, the Juniper Mesa 3 allows you to run your favourite office computer applications including Dropbox, OneNote, FieldGenius and more. Built around the Quad-Core Intel Pentium N4200, the Mesa 3 has more than enough processing power to get anything you need done. 
With the ultra tough IP68 and MIL-STD-810G enviornmental dust, shock and water proof ratings, the MEsa 3 can take whatever you throw at. Whether it is a drop in a dusty field, a creek, or a concrete pad, you can be sure the Mesa 3 will stand up to whatever abuse you can throw its way. 
The Mesa 3 is also upgradeable to include a number of different options to meet your needs. This includes a cell modem, cameras, additional battery capacity, a GNSS modem and more. You can customize the Mesa 3 to meet your needs, with all the tools you need in the field. 
The Mesa 3 comes with all of the accessories you need to be sucessful in the field. This includes two different stylus options, a hand strap and the charger you need. With the styluses, you can find the one that works the best in your conditions, so that you never have to remove your gloves. With the industry leading Dragontrail High Ion Exchange Cover Glass, you get a screen that is extremely tough while also being easy to read and use. 
There are a variety of different accessories available for the Mesa 3, that include easy carry harness, pole and vehicle mounts and more. These optional accessories make it easier to use the Mesa while keeping your Mesa secure and safe. Ask our staff for more details on how we can help you take the Mesa to the next step. 
MicroSurvey software has built a reputation on providing software packages for the geomatics, survey, civil and forensic industries. They have built a reputation upon providing a robust and reliable software solutions backed by great support. Whether you are looking for a field software package, an office CAD drafting package or an post proccessing quality assurance package, MicroSurvey has a solution for you. 
MicroSurvey software is based out of Kelowna BC and has been a proud Canadian company since 1985. They pride themselves in providing a robust field to finish solution that has the tools an expert needs, but is easy enough to use that anyone can start working right away. As they are based in Kelowna, their support is in a North American time zone. This means that if you run into something in the field, you can give them a call and get talking to a live person who is there to help you out. As they like to say, they empower people, not machines. 
FieldGenius - Field Data Collection
FieldGenius is designed to make data collection, categorization and staking as easy as possible. FieldGenius has over 20 years of development, and a lot of time to refine and ensure that all the tools you need are in the software.
FieldGenius has modules to work with GNSS, total stations, robots and roads. And unlike a lot of the industry, the standard FieldGenius version has drivers to work with GNSS and total station instruments. This means you do not need to purchase seperate modules to work with your existing equipment. 
FieldGenius is the last of the truly independant brand neutral survey software companies. Unlike all of the other software designers, FieldGenius does not sell hardware. They have no incentive to lock manufacturers out of their software. Many of the top brands are available to use with FieldGenius, including; Hemisphere, Topcon, Sokkia, Leica, and more. 
Here at Bench-Mark we have designed our support services to make learning FieldGenius as easy as possible. This includes our live tech support, live training, cheat sheets, and video guides. We want you to have all the information you need to make sure the software does everything you need it to. 
Our live training session occur several times a week and are live on Zoom. In these sessions, we go over how to set the gear up, how to create a new project, stake a point, and more. As there are often only 1-2 people in a session, you can ask questions to help tailor FieldGenius to your exact needs. 
Our comprehensive cheat sheet and video guides cover the most basic topics from changing your coordinate system to the most advanced functions in FieldGenius like calculating volumes. Each guide is curated so that you can easily find what you are looking for.