Description
The Juniper Claw Clamp stands out as a versatile and essential accessory, compatible with not only the Mesa 3 but also the FC5000, FC6000, RT3 AND RT4 tablets, making it a valuable addition to the toolkit of professionals across various industries. This ingenious clamp is designed to provide users with unparalleled flexibility and convenience, allowing them to effortlessly adjust the positioning of their Mesa 3 tablet to achieve the optimal viewing angle.
The standout feature of the Juniper Claw Clamp lies in its innovative ball and joint assembly, which empowers users with an extraordinary degree of control over their data collector's positioning. This enables them to fine-tune the tablet's orientation according to their specific needs, whether it's for accurate data collection in field surveys, efficient communication in construction projects, or seamless interaction with digital maps during outdoor exploration.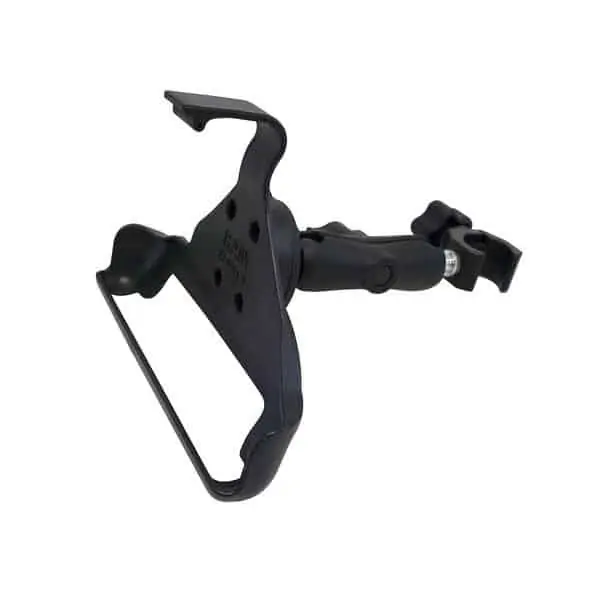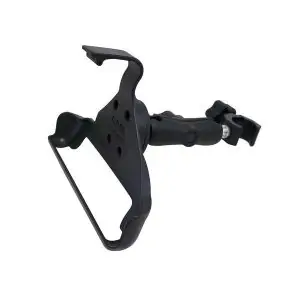 With its user-friendly design and functional efficacy, the Juniper Claw Clamp offers an impressive trio of benefits that set it apart. Firstly, the clamp boasts a secure three-point contact mechanism, ensuring that the tablet remains firmly in place at all times. This eliminates any concerns about the device slipping or becoming dislodged, providing professionals with the peace of mind they need to focus on their tasks without distraction. Whether navigating rugged terrains or working in bustling construction sites, the robust grip of the clamp guarantees the safety of valuable data collection equipment.
Secondly, the Juniper Claw Clamp serves as a valuable time-saving tool, enabling users to swiftly adjust the tablet's position without hassle. This instant adaptability is particularly beneficial in scenarios where field conditions change rapidly, and a quick alteration of the viewing angle is crucial for maintaining operational efficiency. The ease of adjustment ensures that users can seamlessly transition between tasks, enhancing productivity and reducing downtime.
Lastly, the reliability of the Juniper Claw Clamp stands as a testament to its durable construction and thoughtful engineering. Professionals can depend on this clamp as a steadfast companion in their endeavors, irrespective of the challenges posed by varying environments. Its rugged build and dependable grip make it an accessory that can withstand the rigors of demanding work settings, making it a valuable long-term investment.
In conclusion, the Juniper Claw Clamp emerges as a vital tool for professionals relying on the Mesa 2, Mesa 3, FC5000, FC600, RT4 and RT3 tablets. Its unique ball and joint assembly offer unmatched control over positioning, allowing for precise adjustments to achieve the perfect viewing angle. With its secure three-point contact, effortless adjustability, and unwavering reliability, this clamp ensures that valuable data collection equipment remains safe, tasks are executed with efficiency, and investments are protected over the long haul. Whether in surveying, construction, or outdoor exploration, the GeoMeasure Claw Clamp proves to be an indispensable asset, elevating the capabilities of these tablets to new heights.