Description
GeoMeasure Male End Quick Release Adapter
The GeoMeasure GPS quick release adapter is a game-changer for professionals who rely on GPS equipment for their work. In a world where efficiency and precision are paramount, this adapter streamlines the process of reattaching antennas with ease. Designed to sit atop your pole, it offers durability, compactness, and convenience without adding any significant weight to your equipment.
One of the standout features of this adapter is its thoughtful engineering. The smooth milled edges ensure that your antenna can be quickly released without getting snagged on the pole. This not only saves you precious time but also eliminates the potential hazard of dropping your expensive GPS antenna during the release process. With the GeoMeasure quick release adapter, you can confidently detach your antenna without the need to painstakingly unscrew it from the pole, reducing the risk of accidents and damage to your equipment.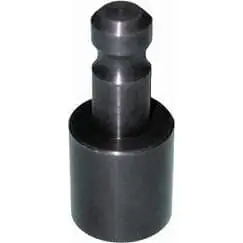 One of the most common issues faced by GPS professionals is antenna damage caused by accidental drops. An antenna drop can be a costly and frustrating setback, potentially leading to repairs or replacements. However, with the GeoMeasure quick release adapter, you can significantly reduce this risk. This adapter offers a reliable solution to prevent antenna drops, ensuring that your GPS equipment remains in pristine condition.
The quick release adapter is compatible with a 5/8″ thread, making it a versatile addition to your toolkit. Whether you are a surveyor, engineer, geologist, or any professional who relies on GPS technology in the field, this adapter can seamlessly integrate with your existing equipment. Its compatibility ensures that you can quickly adapt and improve your workflow without the need for extensive modifications or additional investments.
In a fast-paced work environment where every second counts, the GeoMeasure GPS quick release adapter is a valuable asset. It not only enhances your operational efficiency but also safeguards your equipment investment. With its user-friendly design and compatibility, it empowers you to detach your antenna swiftly and securely, eliminating the need for risky and time-consuming manual detachment methods.
In summary, the GeoMeasure GPS quick release adapter is a must-have accessory for professionals in need of a dependable solution for antenna attachment and detachment. Its durable construction, smooth milled edges, and compatibility with 5/8″ threads make it a versatile and reliable tool. By using this adapter, you can minimize the risk of antenna drops, save time, and ensure the longevity of your GPS equipment, ultimately contributing to a more efficient and productive workday.