Description
Hemisphere GNSS has built a reputation on providing accurate and reliable GNSS positioning devices for over 20 years. They are renowned for their innovative and affordable positioning antennas and receivers. Having started in the agricultural market with the Outback brand, they have branched out to create the incredibly popular Vector line of marine antennas and the S-series surveying receivers. 
Hemisphere GNSS is based in North America, with headquarters in Scottsdale Airzona, and offices in Calgary Alberta and Winnipeg Manitoba. What this means for you is that support is always in your time zone. There is no need to send your devices across the ocean to get fixed, everything is fixed in North America. For the last 10 years, we have prided ourselves here at Bench-Mark with providing a North American survey solution at an affordable price point. Our partnership with Hemisphere is a big part of that. 
The Hemisphere S320 was Hemisphere's first forray into providing a survey based solution, and was one of our best selling receivers of all time. The Hemisphere S320 provides a robust, reliable and accurate solution, that was beloved by countless of our customers. 
The Hemisphere S320 uses Hemisphere's Athena RTK engine, an older version of the engine found in the newer S321 and S631 recievers. The Athena RTK engine is capable of superior multi-path performance. As the S320 is a 4th generation receiver, it does not have access to the latest signals and constellations but still performs great. The Sure-Track technology inside the receiver improves RTK in congested environments and long-range baseline degradation. 
GPS: L1C/A, L1P, L2P, L2C
GLONASS: L1C/A, L1P, L2P, L2C/A
SBAS: MSAS, WAAS, EGNOS, GAGAN
Flexible Communication Options
The S320 boasts an internal 1 Watt 400 Mhz radio that can give you up to 3 km of range. The internal radio is capable of broadcasting many of the most common message format types; CMR, CMR+, RTCM 3 and Hemisphere's own ROX format. 
The S320 also has the ability to use an internal cell modem. The internal cell modem allows you to use the Hemisphere S320 as a network rover, or broadcast corrections using the cell modem. This allows you to work with the solution you want. With solutions like StormCaster you can acheive much further ranges than the traditional base and rover. 
With the S320 you also have the ability to capture static data with an SD card. All you have to do is turn the receiver on and the data is logged to the SD card automatically. 
MicroSurvey software has built a reputation on providing software packages for the geomatics, survey, civil and forensic industries. They have built a reputation upon providing a robust and reliable software solutions backed by great support. Whether you are looking for a field software package, an office CAD drafting package or an post proccessing quality assurance package, MicroSurvey has a solution for you. 
MicroSurvey software is based out of Kelowna BC and has been a proud Canadian company since 1985. They pride themselves in providing a robust field to finish solution that has the tools an expert needs, but is easy enough to use that anyone can start working right away. As they are based in Kelowna, their support is in a North American time zone. This means that if you run into something in the field, you can give them a call and get talking to a live person who is there to help you out. As they like to say, they empower people, not machines. 
FieldGenius - Field Data Collection
FieldGenius is designed to make data collection, categorization and staking as easy as possible. FieldGenius has over 20 years of development, and a lot of time to refine and ensure that all the tools you need are in the software.
FieldGenius has modules to work with GNSS, total stations, robots and roads. And unlike a lot of the industry, the standard FieldGenius version has drivers to work with GNSS and total station instruments. This means you do not need to purchase seperate modules to work with your existing equipment. 
FieldGenius is the last of the truly independant brand neutral survey software companies. Unlike all of the other software designers, FieldGenius does not sell hardware. They have no incentive to lock manufacturers out of their software. Many of the top brands are available to use with FieldGenius, including; Hemisphere, Topcon, Sokkia, Leica, and more. 
Here at Bench-Mark we have designed our support services to make learning FieldGenius as easy as possible. This includes our live tech support, live training, cheat sheets, and video guides. We want you to have all the information you need to make sure the software does everything you need it to. 
Our live training session occur several times a week and are live on Zoom. In these sessions, we go over how to set the gear up, how to create a new project, stake a point, and more. As there are often only 1-2 people in a session, you can ask questions to help tailor FieldGenius to your exact needs. 
Our comprehensive cheat sheet and video guides cover the most basic topics from changing your coordinate system to the most advanced functions in FieldGenius like calculating volumes. Each guide is curated so that you can easily find what you are looking for.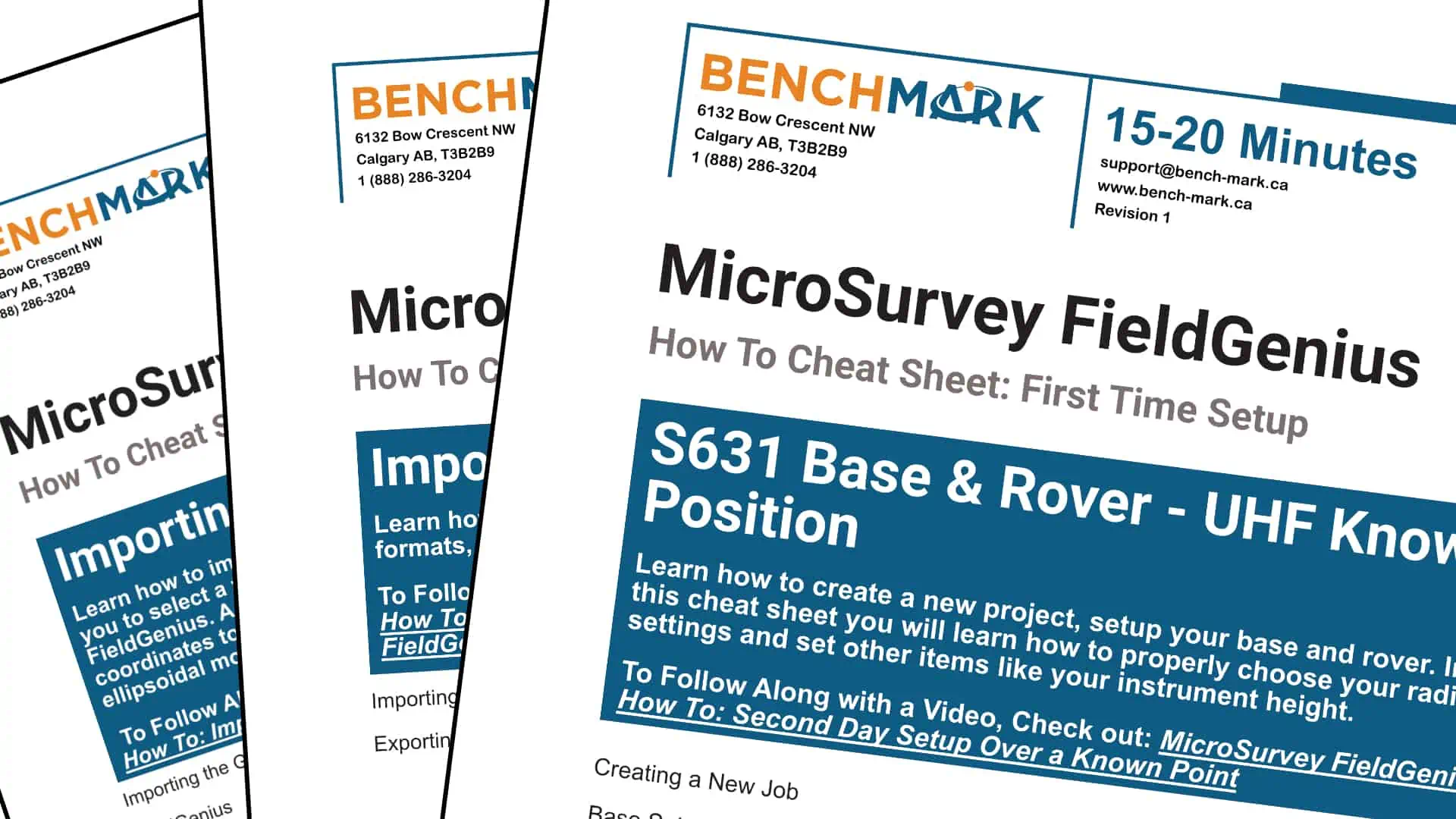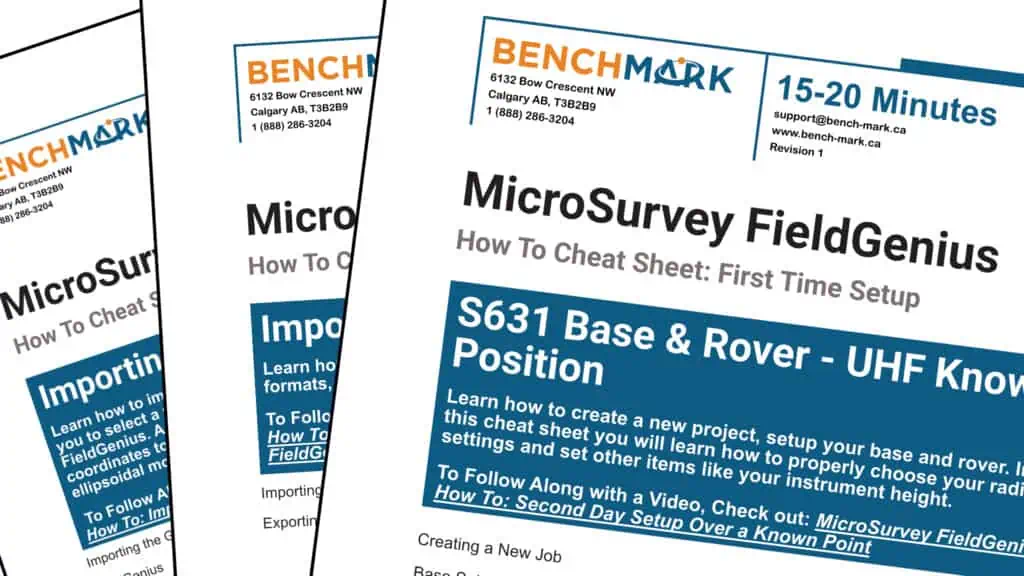 All of our used equipment is rigorously tested to ensure that it meets our used equipment standards. Before the instrument is sold, we test to ensure that the instrument specifications are as expected, and any broken parts are replaced or refurbished. Our standard testing regiment includes a range test to ensure the radios of any GNSS receiver are still operating within specifications. Our test course is a 3 km in city range test with no line of sight. This ensures the test is as close to what you experience in the field as possible. For total stations, we ensure that the unit is within expected calibration by shooting multiple points, with both sides of the total station. If work is required, we have an optical expert take a look and adjsut the unit. 
Next we ensure that the instrument has the latest firmware and drivers available. This is to ensure that the unit is working as well as possible when you receive it. In order to repair used equipment, we keep a range of parts for all Hemisphere recievers, and many of the other leading brands. This allows us to repair and refurbish instruments that are otherwise not supported by the manufacturer. Finally, the units are thoroughly cleaned to ensure they look as new as possible.
Unit History
This set of Hemisphere S320s was traded in order to upgrade to the new Hemisphere S631. The previous owner used the units heavily during fieldwork. The units are used, with paint, scuffs and scratches but is in otherwise they are in prefect working order. Both unit buttons have been rebuilt, and now work like new.  The data collector was used in the rental fleet and has seen light field use. There are scuffs and scratches but it is in otherwise excellent condition. The units were ranged tested and passed the test on the range course.