Description
Juniper Rugged Data Collection
Juniper Systems has been providing robust, reliable and rugged data collectors for the surveying industry since 1993. Many of the most popular designs that you know and love, are likely originially Juniper data collectors. This includes the popular Carlson Surveyor+ and Surveyor 2 data collectors, which are rebranded Juniper Allegro data collectors. Located in Utah, Juniper data collectors are both built and serviced within the United States, which means you get support and service in your time zone, there is no need to send anything overseas. 
Juniper strives to provide a hassle free, and easy to use data collection solution that can be customized to meet your needs. With a variety of different sizes, shapes and operating systems, you can find the data collector that meets your needs. This is all backed by their Juniper tough build quality, that ensures your data collector will stand up to whatever abuse you throw it on site.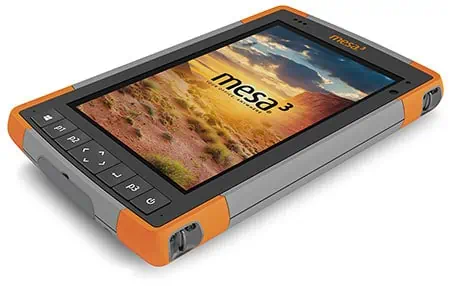 The Mesa 3 is a powerful handheld tablet that allows you to take the office with you and into the field. With a full Windows 10 operating system, the Juniper Mesa 3 allows you to run your favourite office computer applications including Dropbox, OneNote, FieldGenius and more. Built around the Quad-Core Intel Pentium N4200, the Mesa 3 has more than enough processing power to get anything you need done. 
With the ultra tough IP68 and MIL-STD-810G enviornmental dust, shock and water proof ratings, the MEsa 3 can take whatever you throw at. Whether it is a drop in a dusty field, a creek, or a concrete pad, you can be sure the Mesa 3 will stand up to whatever abuse you can throw its way. 
The Mesa 3 is also upgradeable to include a number of different options to meet your needs. This includes a cell modem, cameras, additional battery capacity, a GNSS modem and more. You can customize the Mesa 3 to meet your needs, with all the tools you need in the field. 
The Mesa 3 comes with all of the accessories you need to be sucessful in the field. This includes two different stylus options, a hand strap and the charger you need. With the styluses, you can find the one that works the best in your conditions, so that you never have to remove your gloves. With the industry leading Dragontrail High Ion Exchange Cover Glass, you get a screen that is extremely tough while also being easy to read and use. 
There are a variety of different accessories available for the Mesa 3, that include easy carry harness, pole and vehicle mounts and more. These optional accessories make it easier to use the Mesa while keeping your Mesa secure and safe. Ask our staff for more details on how we can help you take the Mesa to the next step.