Description
Hemisphere was founded in 2002, and has provided industry leading GNSS positioning solutions. First breaking into the agriculutre positioning market, Hemisphere has become a main stay of the agriculture industry under the brand name OutBack. Branching out from agriculture, Hemisphere has provided leading positioning technology in the form of their Vector marine products, and their industry best S-Series of surveying equipment. 
Hemisphere is known for their high-performance, high-precision and reliable GNSS products that take full advantage of the latest signals and constellations. Hemisphere's products are designed to provide accurate and reliable positions even in difficult multi-path and high interfence environments. Hemisphere receivers are industry leader's in multi-path positioning and can out-perform or match any reciever on the market. 
Hemisphere GNSS is head-quatered in Scottsdale Arizona, and has several offices across North America, including in Calgary Alberta and Winnipeg Manitoba. What this means for you is, that all support and service is provided in your time zone. There is no need to ship anything overseas, meaning quick turn-arounds on any repairs. Here at Bench-Mark we have been Hemisphere wholesale distributors for over 10 years. We have watched Hemisphere improve their survey offerings from the dual-frequency S320 all the way to the multi-GNSS and multi-frequency S631 reciever.
The Hemisphere S631 is the latest survey receiver from Hemisphere, and boasts all of the latest RTK technology they have to offer. It is a multi-frequency, multi-GNSS reciever that is the best performing receiver to date. 
The Hemisphere S631 can receive corrections from all of the major constellations including; Galileo, BeiDou, GPS and Glonass. With the ability to fix off any constellation the S631 can take the best available corrections to determine its position. 
GPS: L1CA/L1P/L1C/L2P/L2C/L5
GLONASS: G1/G2/G3, P1/P2
BeiDou: B1i/B2i/B3i/B1OC/B2A/B2B/ACEBOC
Galileo: E1BC/E5a/E5b/E6BC/ATLBOC
IRNSS: L5
QZSS: L1CA/L2C/L5/L1C/LEX
SBAS and Atlas
Superior Multi-Path Performance
The Hemisphere S631 provides best in class under canopy performance. The S631 uses Hemisphere's proprietary Athena RTK engine. The Athena RTK engine is designed to utilize all of the signals that are available today. With access to the higher power, and multi-path mitigating L5 signals on all available constellations, the S631 can perform under dense canopy. 
Under Canopy Repeatability
The S631 is not just faster to fix under canopy. They are also accurate, repeatable and reliable. With the Athena RTK engine, you have an engine that filters and disregards solutions that have been affected by multi-path.
With Sure-Fix technology, the S631 uses two independant and distinct RTK engines to derive a solution. Only once the two agree will the solution be reported as Fixed+. With SureFix you can be confident in your position, and avoid having to reshoot a position multiple times. 
The 7th Generation technology inside of the Hemisphere S631 is the most advanced positioning technology on the market. 
One of the biggest advantages of the Hemisphere S631 over the last generation of recievers is the introduction of the Inertial Measurement Unit (IMU). The IMU inside of the S631 integrates RTK data with the inertial sensor to get an accurate position. By integrating RTK data into the IMU sensor, you do not have to worry about orientation or calibration. 
The IMU tilt sensor can be calibrated in as little as 30 seconds, with a very simple rocking motion. All you have to do is hold the point of the pole on the ground and rock it back and forth to calibrate the sensor. The quick procedure takes no time in the field and you are ready to start surveying right away. 
Extended Range, Battery and Durabilty
The S631 boasts powerful internal 1 W Satel radios, that can provide up to 10 km of base to rover range. The internal Satel radio is capable of broadcasting many of the most common and popular radio formats, including; TrimTalk, Pacific Crest, TrimMark and Satel. With the ability to program and edit your frequencies, message types, protocols, and more you can always find radio settings that will work with your existing equipment. When you need a little bit more range, the S631 can broadcast corrections over a cellular network with the use of StormCaster.
The S631 is encased in a magnesium housing that provides dust, shock and water proofing. WIth an IP67 environmental rating, and a MIL-STD-810G rating, you can be assured that the Hemisphere S631 will stand up to whatever you throw at it on site. Whether it falls from your truck, pole or your tripod is blown over the S631 can take any impact you throw at it.
The S631 supports all of this processing and radio power with long lasting battery. There are two batteries that can be hot swapped in the reciever, that allows for up to 12 hours of continuous range. The batteries both have smart battery indicators to indicate how much charge remains in the battery.
Rugged Android Data Collection with the R60
The R60 Android Data collector is our most popular keyboard data collector. With a full qerty keyboard, you finally have a data collector solution to rival the much loved Surveyor 2 and Allegro 2 data collectors. This is all packed into a very compact and lightweight data collector that adds almost no weight to the pole. It is perfect for those looking for a reliable and flexible Android data collector. 
The R60 is built for surveyors, and around the idea of providing as much flexibility as possible in the field. The alphanumeric keyboard makes it easy to enter point information, record field notes, send emails, program your receiver and more, even when it's too cold to take your gloves off. With the R60 you can always get the information you need.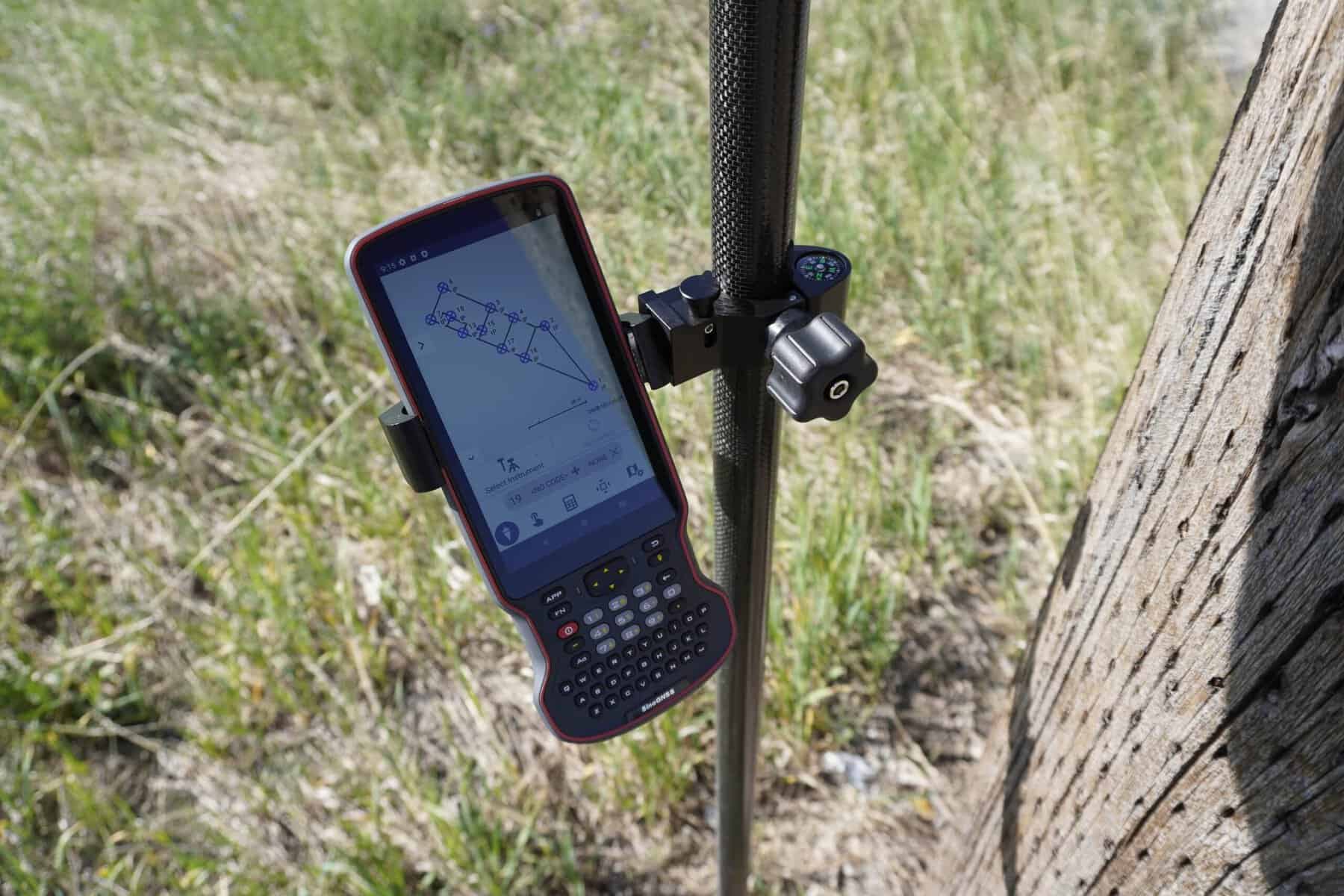 Experience uninterrupted productivity with the R60 Android Data Collector, featuring a robust 9000 mAh internal Li-Ion battery. With an impressive capacity, this powerhouse device ensures up to 30 hours of continuous working time. Whether you're embarking on a long day of surveying or engaging in intensive data collection tasks, the R60 is fully equipped to meet your demands.
Say goodbye to frequent battery anxieties as the R60 excels in providing reliable and long-lasting performance. Its exceptional battery life empowers you to work with confidence, eliminating the need for frequent recharging or carrying around spare batteries. From dawn till dusk, this device remains your steadfast companion, enabling you to effortlessly tackle extensive workloads.
The R60's exceptional battery life is tailored to support the rigorous demands of surveying and data collection professionals. Regardless of how intense your fieldwork may be, this cutting-edge device stands ready to deliver exceptional reliability and endurance. Rest assured that with the R60, you can stay focused on your work without any interruptions or concerns about battery life.
Elevate your data collection experience with the cutting-edge technology of the R60 Android Data Collector. Powered by an advanced 8-core Qualcomm processor and running on the latest Android 12 operating system, this device ensures seamless performance and access to a wide array of capabilities. Certified with Google Mobile Services (GMS), it grants you complete freedom to run your favorite Google apps, bringing unparalleled versatility to your fingertips.
Equipped with an abundance of processing power, the R60 effortlessly handles complex tasks, including the manipulation of surfaces and the management of large-scale projects. Even with thousands of data points, this powerhouse device rises to the challenge, ensuring swift and reliable performance without compromising precision. It is a perfect fit with MicroSurvey's FieldGenius for Android. 
Embrace the future of data collection with the R60 Android Data Collector, where the amalgamation of an 8-core Qualcomm processor, Android 12 OS, and seamless integration with industry-leading software empower you to tackle any project with confidence and efficiency.
MicroSurvey software has built a reputation on providing software packages for the geomatics, survey, civil and forensic industries. They have built a reputation upon providing a robust and reliable software solutions backed by great support. Whether you are looking for a field software package, an office CAD drafting package or an post proccessing quality assurance package, MicroSurvey has a solution for you. 
MicroSurvey software is based out of Kelowna BC and has been a proud Canadian company since 1985. They pride themselves in providing a robust field to finish solution that has the tools an expert needs, but is easy enough to use that anyone can start working right away. As they are based in Kelowna, their support is in a North American time zone. This means that if you run into something in the field, you can give them a call and get talking to a live person who is there to help you out. As they like to say, they empower people, not machines. 
FieldGenius - Field Data Collection
Discover the boundless potential of the survey industry with the latest advancements in technology. As a trusted dealer of MicroSurvey's cutting-edge software, FieldGenius for Android™, you have the opportunity to offer your customers an unrivaled solution. Designed to be brand-neutral, FieldGenius supports a wide range of hardware options, ensuring compatibility with the diverse needs of your clientele.
With its map-driven data collection software, FieldGenius revolutionizes the user experience, providing an intuitive interface that minimizes training time for your customers. The seamless synchronization of data panels with the map display enhances productivity and ensures that both experienced professionals and newcomers can effortlessly navigate the software.
MicroSurvey's expertise in data collection shines through in FieldGenius for Android™. Our decades of industry knowledge have been meticulously applied to the Android platform, resulting in enhanced workflows that are more efficient and intuitive than ever before. By offering this software, you empower your customers to optimize their operations and stay ahead of the competition.
As a dealer, we understand the value of seamless transitions and minimal downtime. FieldGenius is designed to leverage your customers' existing skill sets, enabling them to easily upgrade their equipment or switch manufacturers without sacrificing productivity. MicroSurvey remains steadfast in our commitment to consistency, ensuring a seamless user experience across different devices.
Position yourself as a trusted provider of the latest surveying technology by offering FieldGenius for Android™. Empower your customers with a comprehensive and versatile solution that enhances their workflows, increases efficiency, and unlocks new possibilities. With MicroSurvey's renowned software in your repertoire, you can confidently guide your customers towards a future of success in the survey industry.
Here at Bench-Mark we have designed our support services to make learning FieldGenius as easy as possible. This includes our live tech support, live training, cheat sheets, and video guides. We want you to have all the information you need to make sure the software does everything you need it to. 
Our live training session occur several times a week and are live on Zoom. In these sessions, we go over how to set the gear up, how to create a new project, stake a point, and more. As there are often only 1-2 people in a session, you can ask questions to help tailor FieldGenius to your exact needs. 
Our comprehensive cheat sheet and video guides cover the most basic topics from changing your coordinate system to the most advanced functions in FieldGenius like calculating volumes. Each guide is curated so that you can easily find what you are looking for.