Description
See What Matters to Our Customers
Multi Constellation GNSS and Triple Frequency
The S321 is Hemisphere's multi-GNSS, multi-frequency smart antenna. With the Hemisphere S321 you receive corrections from; GPS, GLONASS, Galileo, BeiDou, and SBAS constellations at no extra charge. There is no need to activate the extra satellite constellations, they all come standard with the Hemisphere S321.
Surveyor Tough
The S321 provides robust performance and high precision in a compact and rugged package. With a surveyor tough aluminum body, the S321 is built to withstand whatever conditions you throw at it. The S321 is built to survive a 2 M pole drop. This is the receiver that is built with accidents in mind, and is built to survive them. The IP67 environmental rating means that Hemisphere's S231 can withstand whatever conditions you face on site. This is the receiver that is built to last for years to come, and has the technology to compete that long as well.
Athena RTK Engine
The S321 receiver is powered by Athena RTK technology. With Athena, S321 provides state-of-the-art RTK performance when receiving corrections from a static base station or network RTK correction system. With multiple connectivity options, the S321 allows for RTK corrections to be received over radio, cell modem, Wi-Fi, Bluetooth, or serial connection. S321 delivers centimeter-level accuracy with virtually instantaneous initialization times and cutting-edge robustness in challenging environments.
The S321 receiver also enables users to work with Atlas. Atlas is Hemisphere's industry-leading global correction service, which can be added as a subscription to the S321. Atlas delivers world-wide centimeter-level correction data over L-band communication satellites. With Atlas, S321 users are able to experience sub-decimeter positioning performance anywhere on earth, without the need to be near a GNSS or communication infrastructure.
Atlas L-band has the following benefits:
Positioning accuracy – Competitive positioning accuracies down to 2 cm
RMS in certain applications.
Positioning sustainability – Advanced position quality maintenance in the
absence of correction signals, using Hemisphere's patented technology.
Powerful Communication
The S321 features the ability to send and receive corrections over both cell and UHF modems. The powerful 1 W internal Satel radio is one of the best in the industry. With an optimal range of 10 km, you barely have the need for an external base radio. This is the receiver that has the radio power to get every survey done. In fact the S321's internal Satel radio is the best performing radio on Bench-Mark's Range Test Baseline. Over 3.5 km with no line of site, the internal radio of the S321 has no issues receiving corrections and calculating a fixed position. Once we step out of the truck, the receiver nearly instantly fixes. Every other receiver we have tested on this baseline, has had some range issues. This is the ultimate internal radio.
The internal 4G cell modem also allows you to send and receive corrections over cell. The S321 is one of our favourite receivers to use on our own StormCaster internet RTK service. With Stormcaster you can set up a permanent base at the office and as long as you have cell service, survey with unlimited range. With an internal cellular modem, you can run an an unlimited amount of rovers of the same base at multiple different job sites.
On top of the above mentioned communication options, the S321+ also broadcasts a Wifi signal over which setup and updates can be applied. With the Web-UI you can quickly set up static data, a base and a rover with little to no hassle. This is the receiver that has an option for any kind of way you want to work.
Key S321+ Features
Multi-Frequency, Multi-GNSS Base Station/Rover
GPS, GLONASS, BeiDou, Galileo, and QZSS
Athena™ RTK, Atlas® L-Band, and SBAS-Capable
Hot Swappable Batteries with 12 Hours of Combined Life
Wifi, UHF, Cellular and Bluetooth Communication
8 GB of Internal Memory for Data Logging, Downloading, and Uploading
572 Channels
1, 2, 4, 5, or 10 Hz Update Rate (20 Hz Optional)
Internal Radio (410 – 470 MHz)
The Whole Package
Hemisphere's S321 and CW400 is a modern surveying package. With the fully loaded Hemisphere S321 you get a modern receiver that has all of the tools to make your survey as easy is possible. With Multi-constellation and multi-frequency capability, the S321 is the receiver that is built to last you for years to come. With the magnesium body, you can always be assured that antenna is ready to go when you are.
MicroSurvey software has built a reputation on providing software packages for the geomatics, survey, civil and forensic industries. They have built a reputation upon providing a robust and reliable software solutions backed by great support. Whether you are looking for a field software package, an office CAD drafting package or an post proccessing quality assurance package, MicroSurvey has a solution for you. 
MicroSurvey software is based out of Kelowna BC and has been a proud Canadian company since 1985. They pride themselves in providing a robust field to finish solution that has the tools an expert needs, but is easy enough to use that anyone can start working right away. As they are based in Kelowna, their support is in a North American time zone. This means that if you run into something in the field, you can give them a call and get talking to a live person who is there to help you out. As they like to say, they empower people, not machines. 
FieldGenius - Field Data Collection
FieldGenius is designed to make data collection, categorization and staking as easy as possible. FieldGenius has over 20 years of development, and a lot of time to refine and ensure that all the tools you need are in the software.
FieldGenius has modules to work with GNSS, total stations, robots and roads. And unlike a lot of the industry, the standard FieldGenius version has drivers to work with GNSS and total station instruments. This means you do not need to purchase seperate modules to work with your existing equipment. 
FieldGenius is the last of the truly independant brand neutral survey software companies. Unlike all of the other software designers, FieldGenius does not sell hardware. They have no incentive to lock manufacturers out of their software. Many of the top brands are available to use with FieldGenius, including; Hemisphere, Topcon, Sokkia, Leica, and more. 
Here at Bench-Mark we have designed our support services to make learning FieldGenius as easy as possible. This includes our live tech support, live training, cheat sheets, and video guides. We want you to have all the information you need to make sure the software does everything you need it to. 
Our live training session occur several times a week and are live on Zoom. In these sessions, we go over how to set the gear up, how to create a new project, stake a point, and more. As there are often only 1-2 people in a session, you can ask questions to help tailor FieldGenius to your exact needs. 
Our comprehensive cheat sheet and video guides cover the most basic topics from changing your coordinate system to the most advanced functions in FieldGenius like calculating volumes. Each guide is curated so that you can easily find what you are looking for.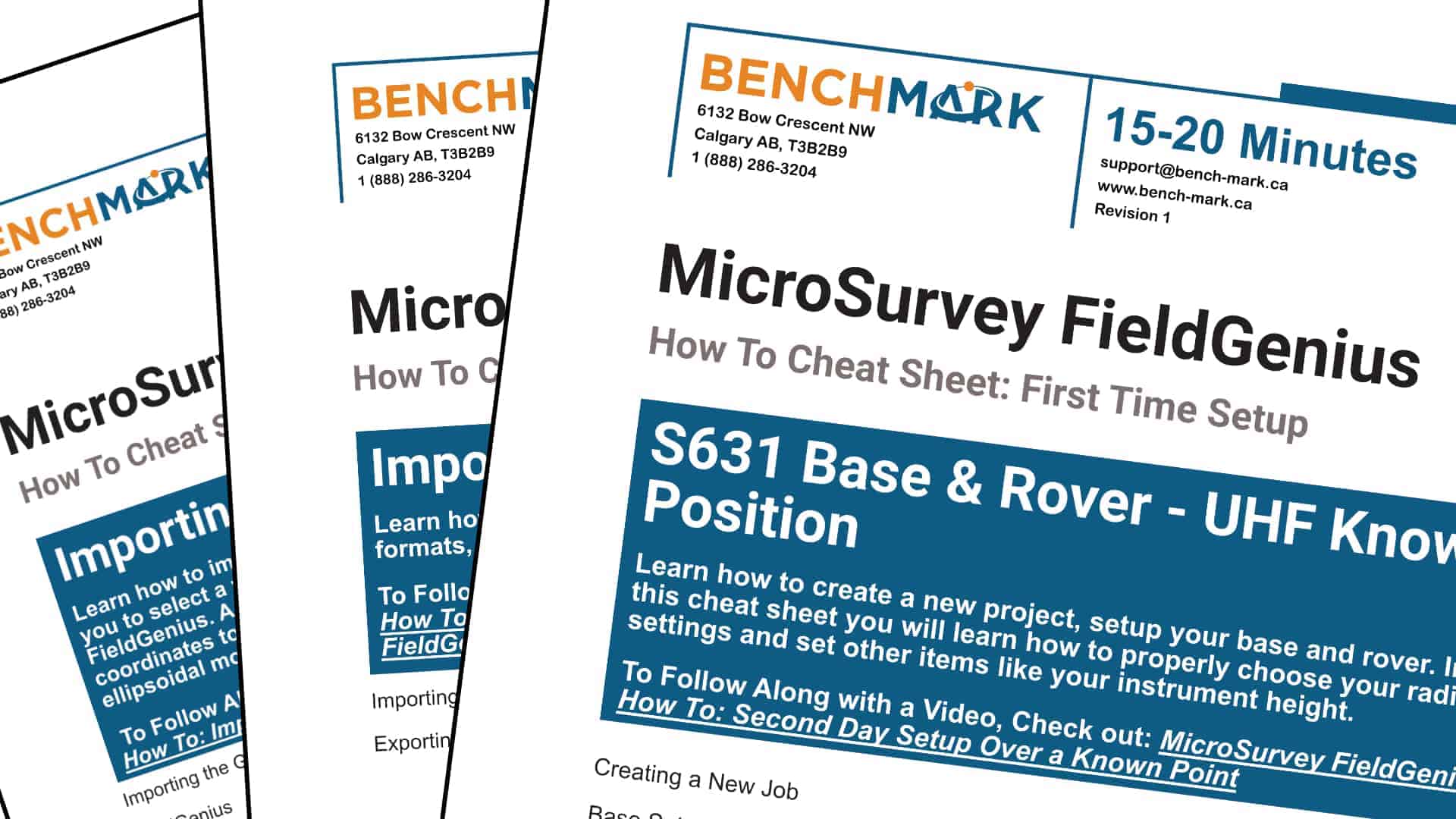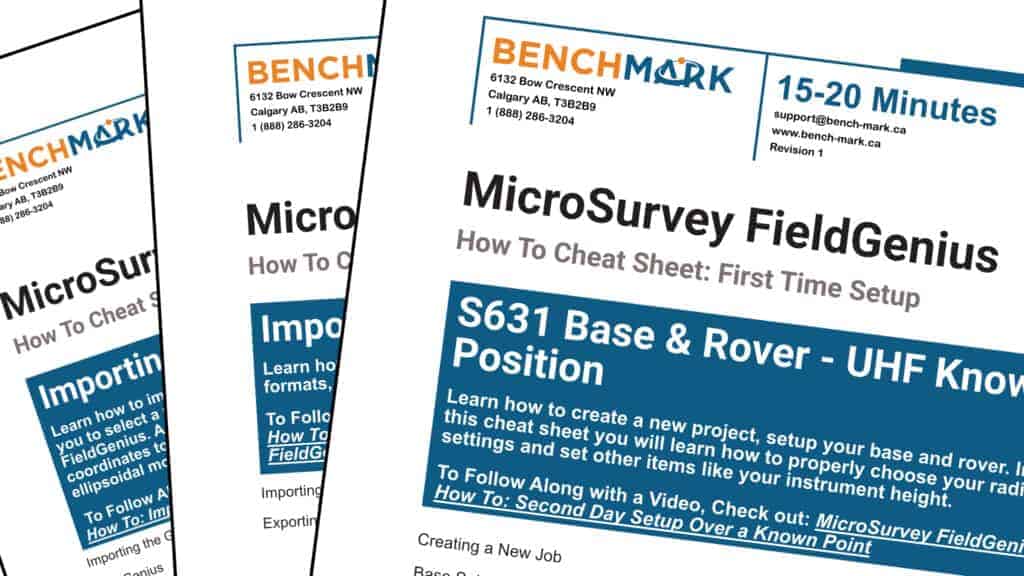 All of our used equipment is rigorously tested to ensure that it meets our used equipment standards. Before the instrument is sold, we test to ensure that the instrument specifications are as expected, and any broken parts are replaced or refurbished. Our standard testing regiment includes a range test to ensure the radios of any GNSS receiver are still operating within specifications. Our test course is a 3 km in city range test with no line of sight. This ensures the test is as close to what you experience in the field as possible. For total stations, we ensure that the unit is within expected calibration by shooting multiple points, with both sides of the total station. If work is required, we have an optical expert take a look and adjsut the unit. 
Next we ensure that the instrument has the latest firmware and drivers available. This is to ensure that the unit is working as well as possible when you receive it. In order to repair used equipment, we keep a range of parts for all Hemisphere recievers, and many of the other leading brands. This allows us to repair and refurbish instruments that are otherwise not supported by the manufacturer. Finally, the units are thoroughly cleaned to ensure they look as new as possible.