There is a lot to consider when purchasing an RTK system. There are a lot of factors to consider and finding the right balance between affordability and performance is not easy. Learning what to look for when purchasing pre-owned survey equipment and when it is the right time to purchase a new system can change the way you do business. Making the choice between the two systems depends on your company's unique needs, and what is in your best interest. Neither solution is entirely without cons, and understanding how they play with the pros is important to getting the most out of your equipment. When is it the right time to purchase new equipment? What do you have to be on the lookout for when purchasing used equipment? Find that out and more in this article.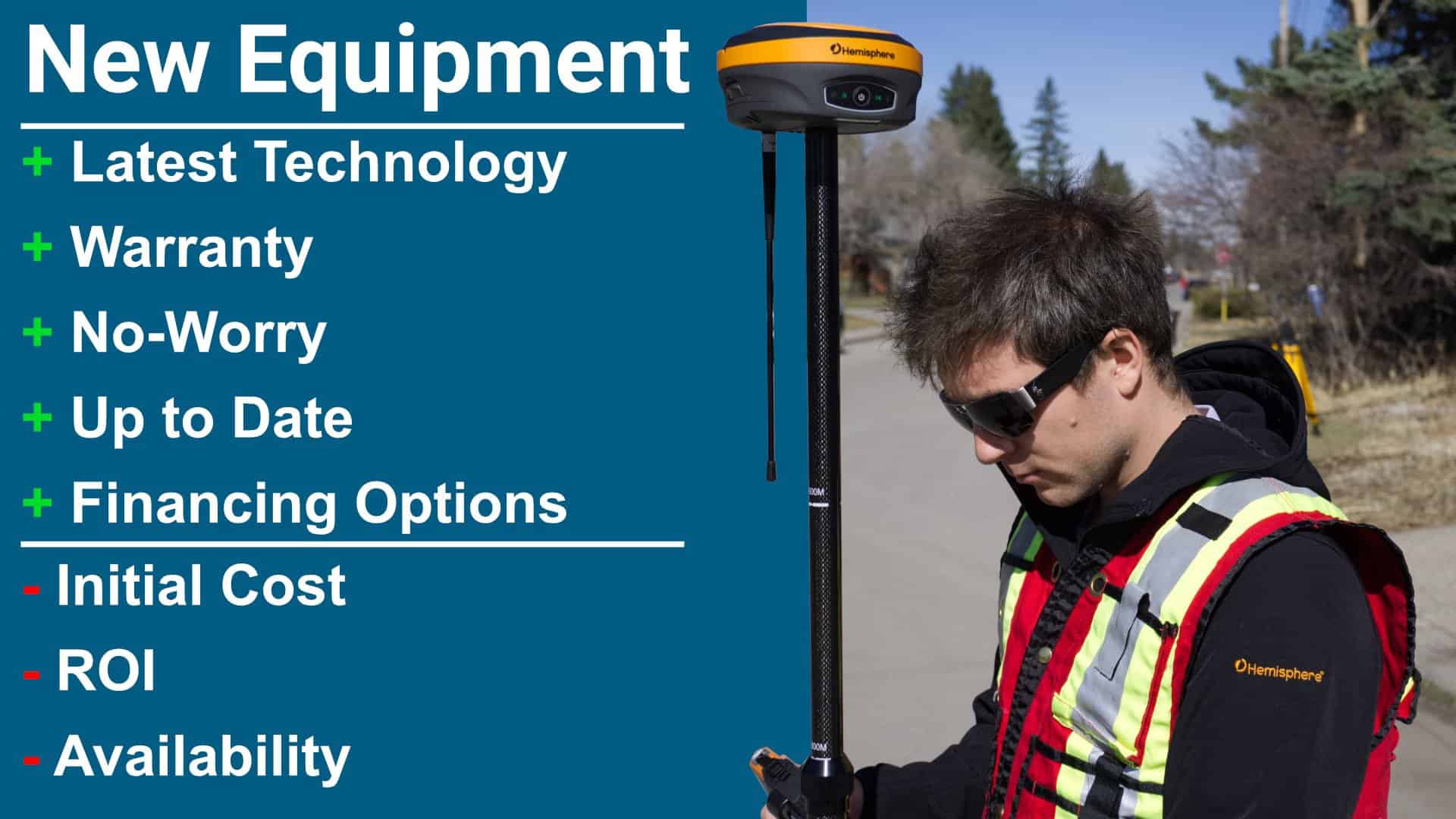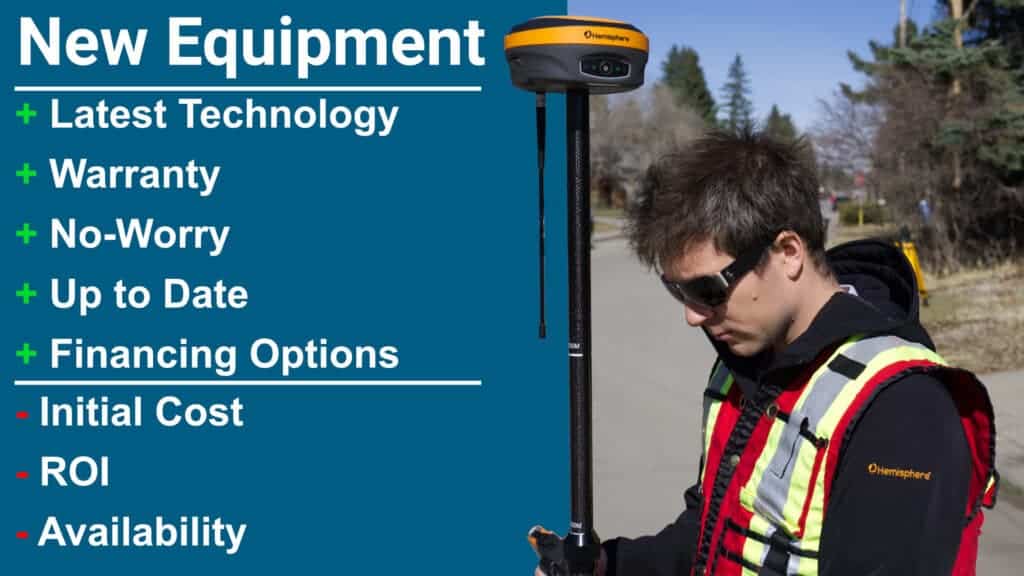 Pros of New Equipment
There is no doubt new equipment can be an expensive initial investment. In a perfect world where money is no object, you would probably purchase new equipment every time. However, understanding what benefits new equipment offers you in comparison to used equipment will help you make an informed purchasing choice.
Technology: One of major advantages of buying new GNSS equipment is the upgrade in technology. GNSS technology is constantly evolving, and gains over your current equipment can change the way you work. Look at the Hemisphere S631, which replaced the S321+. The Hemisphere S631 introduced a new IMU tilt sensor, and made use of several GNSS constellation signals the S321+ can not. As a result, the S631 is significantly faster in layout and under canopy when put against the S321+. Where you would have had to previously pull out a total station, you can now survey with GNSS. Check out our videos comparing the two units here.
Warranty: All of our new Hemisphere S631 receivers come with a full 1-year warranty, with the option to extend that warranty a further year. This means that any unforeseen issues can quickly be resolved at no cost to you.
No-Worry Use: When buying new equipment, you know what you are getting. There are no unknown issues that have been hidden. New equipment will always be ready to go, and there is no need to worry about the battery lifetime, or faulty antennas. You will be getting the manufacturer stated lifetime on all of your equipment.
Latest Drivers and Firmware: An often-discounted fact about new equipment is that the firmware and drivers of new units are constantly being updated and maintained. This means that any advances and upgrades you get access to.
Financing: New equipment can be a big investment for your company. It is important to balance your finances against the acquisition of new technology. By considering financing, you can spread the initial cost of your equipment over a time frame, making the GNSS equipment more affordable. Here at Bench-Mark we have several trusted partners who we regularly work with to find fair and honest financing options.
Cons of New Equipment
Capital: The biggest drawback of new equipment is the large initial investment. GNSS equipment is expensive. You need to be sure that new equipment is the right investment to meet your needs and applications. RTK technology also requires a learning curve to implement properly. Do you have the time to learn a new setup? Here at Bench-Mark we offer a host of how to guides and how to videos for free, but not all dealers do this. Make sure the new equipment you are buying is backed by knowledgeable support staff.
ROI: As new GNSS equipment is a large investment, you have to be sure you can make money with the equipment. You lose resale value in depreciation, and you have to be sure you have enough work available to make money with your investment. You will have to rely on your judgement, your own experience and the experience of those around you to determine if new equipment is the right choice for you.
Availability: As with seemingly everything these days, there are availability issues with new equipment. The supply chain issues have made the availability of data collectors like the Mesa 3 limited. Here at Bench-Mark we have stocked up on popular data collectors, however they do tend to move quite quickly.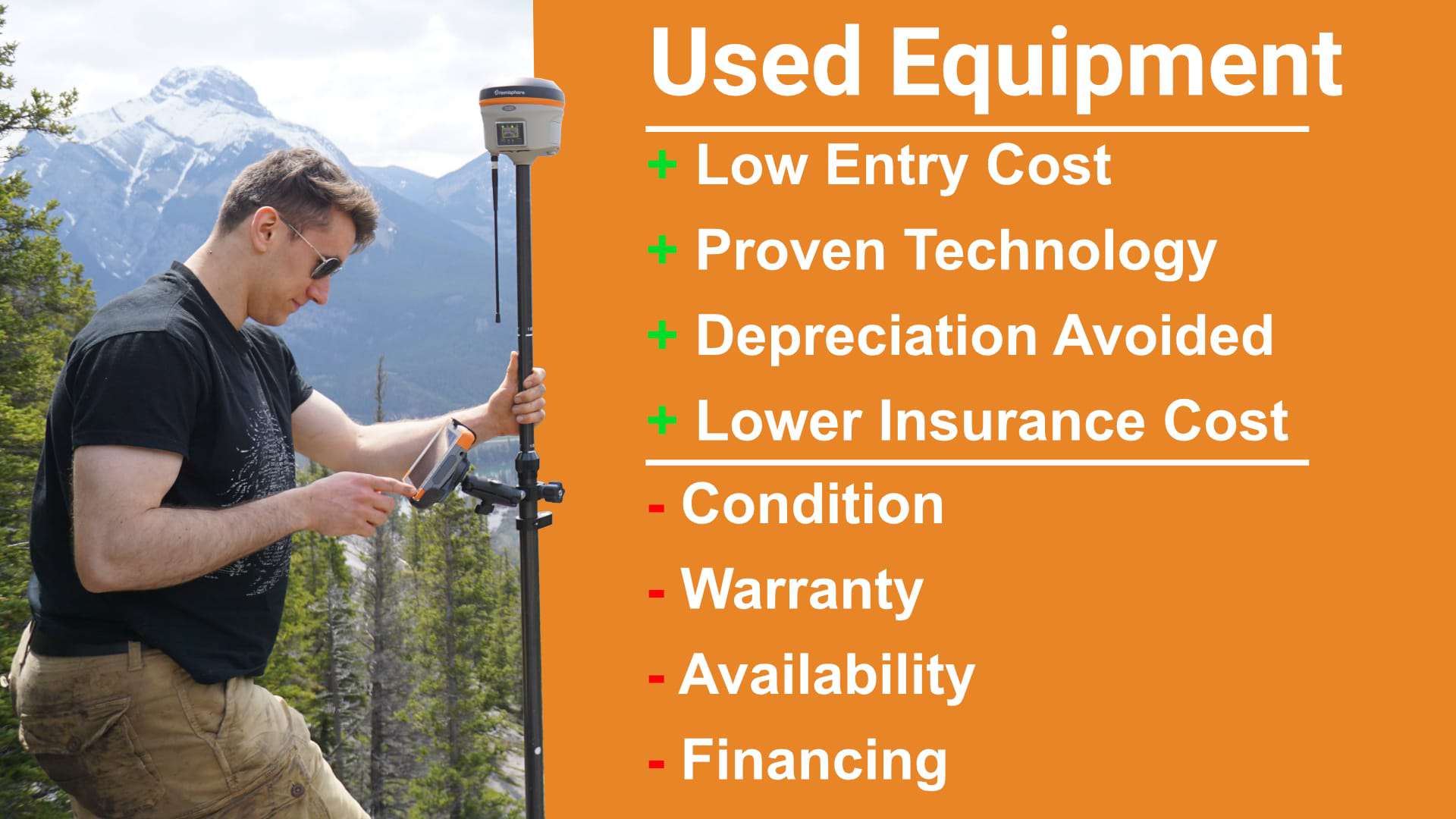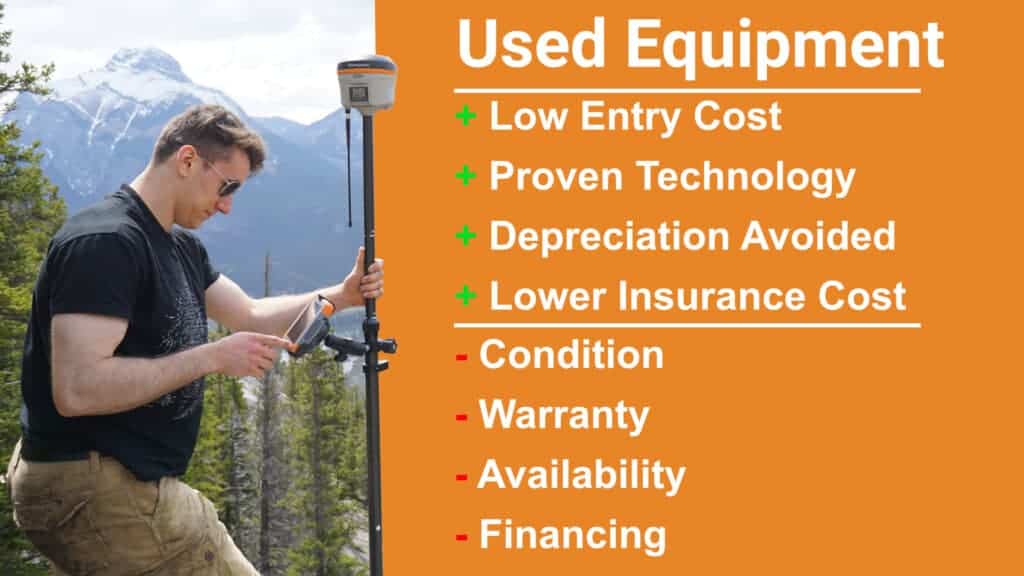 Pros of Used Equipment
Lower Entry Cost: The biggest reason to look at purchasing used equipment is the up-front cost savings. Used equipment typically runs for 65% the cost of new equipment. By investing in used equipment, you are saving yourself from a large initial capital investment. This means you can reinvest the savings elsewhere in your business, or begin to save for new equipment.
Proven Technology: Although new equipment does offer more advantages in terms of performance and features, used equipment is a proven commodity. You can be assured that the technology you are receiving has been working in the field and meets the standards you expect. With other people having done the testing, you can look online in forums like Surveyor Connect or the surveying page of Reddit to find out what other people think of the equipment.
Depreciation Avoided: Like a new car, new equipment does depreciate. With used equipment, most of the depreciation has been done for you. The equipment you receive is of fair value.
Lower Insurance Costs: With a lower initial investment cost you also save money in the long run. The lower initial value of the equipment means you can save money on the insurable value of the equipment.
Cons of Used Equipment
Bad Condition: When buying used equipment, you have to be cognisant of what you are purchasing. Who is the seller? What is the condition of the equipment? Is there any visible damage? When purchasing something like a used robotic total station, ask the seller if the unit has been dropped. Unlike GNSS equipment, optical instruments are sensitive to drops and can lost their calibration. Make sure you trust the seller, or have a way of verifying the condition of the unit before you sell it. Here at Bench-Mark we test every piece of used equipment on our testing course, as well as refurbish all cosmetic and working parts.
Warranty: Used equipment often has no or very limited warranty remaining. This means that any problems you may encounter you will be responsible for. Understand what work has been done to a receiver and how that may impact future use of the equipment.
Financing: Used equipment can still be a large investment for a company. It may be more difficult to obtain financing for used equipment from your preferred lenders. Here at Bench-Mark we work with several different lenders who we know will give you a fair and honest leasing rate, even on used equipment.
Buying Survey Equipment
When buying survey equipment, you need to weigh the pros and cons of a purchase. What makes the most sense for your business. Are you looking for the latest technology to speed up your work? Or do you need to save capital for other projects and want to go with used gear now and new equipment in the future. Carefully considering the different pros and cons listed above will help you make the right choice for your company.
Bench Mark Equipment & Supplies is your team to trust with all your surveying equipment. We have been providing high-quality surveying equipment to land surveyors, engineers, construction, airborne and resource professionals since 2002. This helps establish ourselves as the go-to team in Calgary, Canada, and the USA. Plus, we provide a wide selection of equipment, including global navigation satellite systems, RTK GPS equipment, GNSS receivers, and more. We strive to provide the highest level of customer care and service for everyone. To speak to one of our team today, call us at 403-286-0333 or email us at [email protected]