Description
The GeoMeasure Tilting Prism
Introducing the GeoMeasure Tilting Prism Assembly, a remarkable tool designed to deliver exceptional performance and reliability in the field. Crafted with meticulous attention to detail, this robust and user-friendly assembly is built to withstand the rigors of demanding environments, ensuring longevity and consistent accuracy throughout its lifespan. Constructed entirely of high-quality metal components, you can trust in its durability without worrying about the vulnerability of plastic parts that may crack or break under repeated use. With the GeoMeasure Tilting Prism Assembly, you're investing in a product that is truly built to last.
One of the core advantages of this assembly is its ingenious lightweight design. Despite its rugged construction, the entire assembly weighs a mere 0.62 kg, making it a breeze to handle and carry around the worksite. Gone are the days of heavy and cumbersome prism assemblies that tire out your team members as they navigate the terrain. With its lightweight nature, the GeoMeasure Tilting Prism Assembly enables your personnel to work efficiently and comfortably, enhancing productivity and reducing fatigue during extended operations.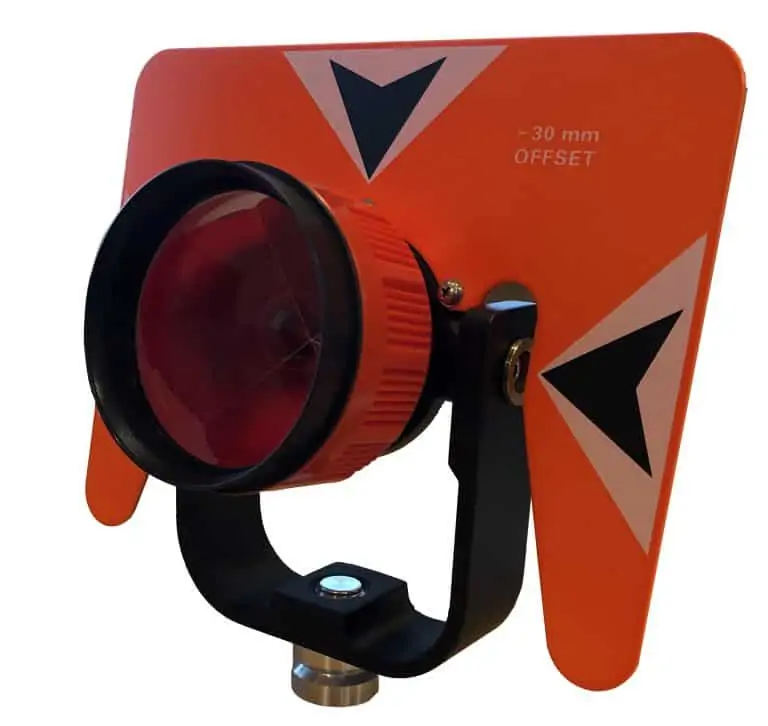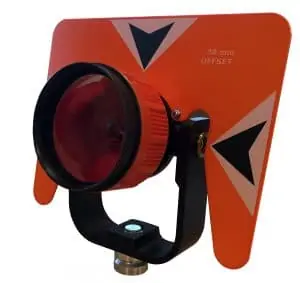 A standout feature of this assembly is the user-friendly and efficient easy adjust locking screw. Engineered with convenience in mind, this innovative mechanism allows for quick and hassle-free angle adjustments with just one hand. Gone are the days of struggling to manipulate the entire pole and prism assembly to achieve the desired angle. With the easy adjust locking screw, you can make precise adjustments on the fly, saving valuable time and streamlining your measurement workflows. Moreover, the locking screw ensures a secure and stable clamping of the prism, preventing any unintended shifting or movement during traversals on the worksite. This guarantees the accuracy and consistency of your measurements, giving you the confidence to rely on the data collected.
Furthermore, the GeoMeasure Tilting Prism Assembly boasts exceptional compatibility, offering seamless integration with any 5/8″ thread. This versatile feature enables effortless attachment to a wide range of GeoMeasure rover poles, providing you with flexibility and adaptability in your equipment setup. Additionally, it is fully compatible with the GeoMeasure GPS Quick Release Assemblies, further expanding its potential applications and enhancing its usability.
Choose the GeoMeasure Tilting Prism Assembly today and unlock a world of possibilities in the field of measurement and surveying. Benefit from its outstanding durability, user-friendly design, and compatibility with various equipment configurations. Don't hesitate to reach out to us for further details and seize the opportunity to revolutionize your measurement capabilities with this exceptional tool.
Rugged Android Data Collection with the R60
The R60 Android Data collector is our most popular keyboard data collector. With a full qerty keyboard, you finally have a data collector solution to rival the much loved Surveyor 2 and Allegro 2 data collectors. This is all packed into a very compact and lightweight data collector that adds almost no weight to the pole. It is perfect for those looking for a reliable and flexible Android data collector. 
The R60 is built for surveyors, and around the idea of providing as much flexibility as possible in the field. The alphanumeric keyboard makes it easy to enter point information, record field notes, send emails, program your receiver and more, even when it's too cold to take your gloves off. With the R60 you can always get the information you need.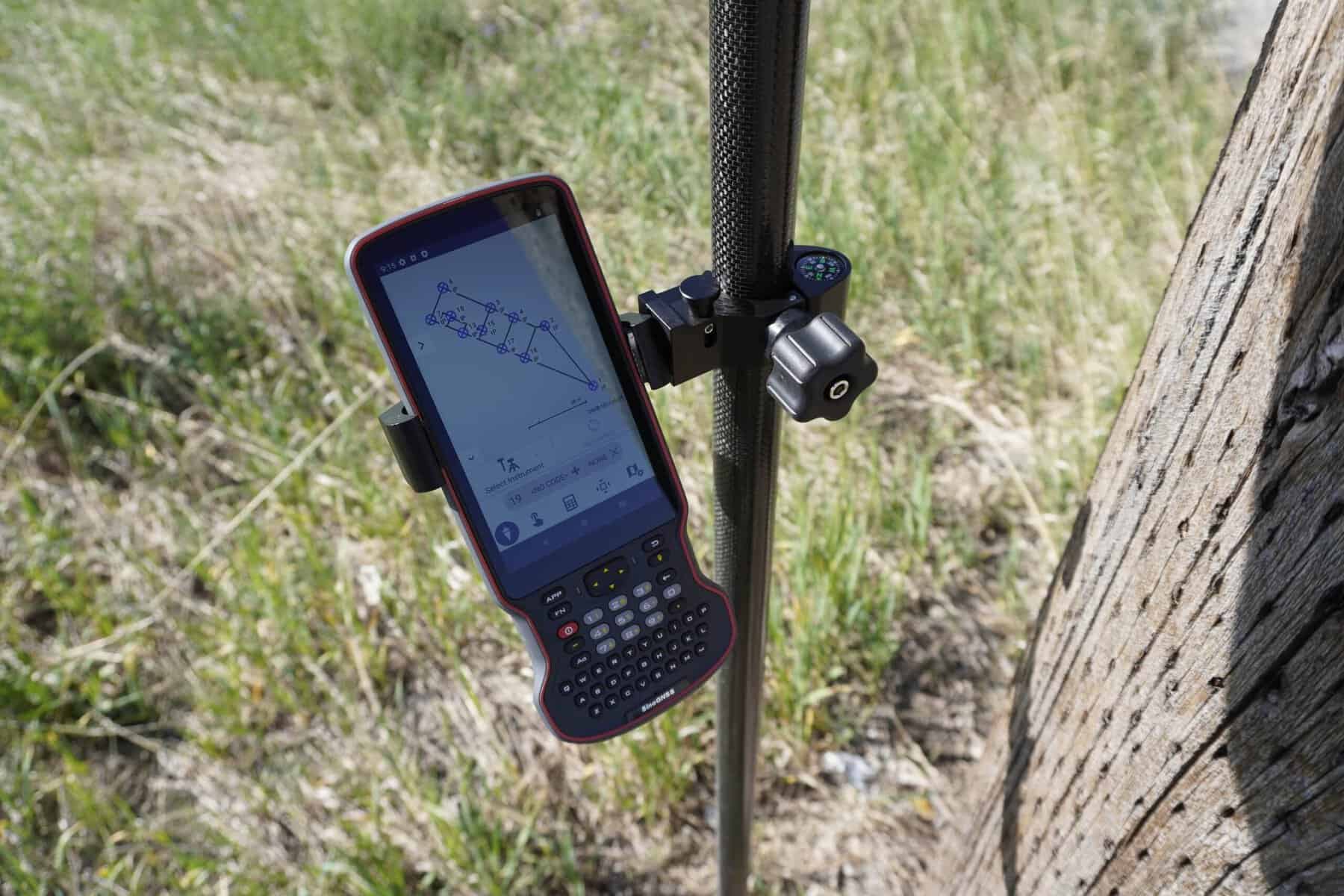 Experience uninterrupted productivity with the R60 Android Data Collector, featuring a robust 9000 mAh internal Li-Ion battery. With an impressive capacity, this powerhouse device ensures up to 30 hours of continuous working time. Whether you're embarking on a long day of surveying or engaging in intensive data collection tasks, the R60 is fully equipped to meet your demands.
Say goodbye to frequent battery anxieties as the R60 excels in providing reliable and long-lasting performance. Its exceptional battery life empowers you to work with confidence, eliminating the need for frequent recharging or carrying around spare batteries. From dawn till dusk, this device remains your steadfast companion, enabling you to effortlessly tackle extensive workloads.
The R60's exceptional battery life is tailored to support the rigorous demands of surveying and data collection professionals. Regardless of how intense your fieldwork may be, this cutting-edge device stands ready to deliver exceptional reliability and endurance. Rest assured that with the R60, you can stay focused on your work without any interruptions or concerns about battery life.
Elevate your data collection experience with the cutting-edge technology of the R60 Android Data Collector. Powered by an advanced 8-core Qualcomm processor and running on the latest Android 12 operating system, this device ensures seamless performance and access to a wide array of capabilities. Certified with Google Mobile Services (GMS), it grants you complete freedom to run your favorite Google apps, bringing unparalleled versatility to your fingertips.
Equipped with an abundance of processing power, the R60 effortlessly handles complex tasks, including the manipulation of surfaces and the management of large-scale projects. Even with thousands of data points, this powerhouse device rises to the challenge, ensuring swift and reliable performance without compromising precision. It is a perfect fit with MicroSurvey's FieldGenius for Android. 
Embrace the future of data collection with the R60 Android Data Collector, where the amalgamation of an 8-core Qualcomm processor, Android 12 OS, and seamless integration with industry-leading software empower you to tackle any project with confidence and efficiency.
MicroSurvey software has built a reputation on providing software packages for the geomatics, survey, civil and forensic industries. They have built a reputation upon providing a robust and reliable software solutions backed by great support. Whether you are looking for a field software package, an office CAD drafting package or an post proccessing quality assurance package, MicroSurvey has a solution for you. 
MicroSurvey software is based out of Kelowna BC and has been a proud Canadian company since 1985. They pride themselves in providing a robust field to finish solution that has the tools an expert needs, but is easy enough to use that anyone can start working right away. As they are based in Kelowna, their support is in a North American time zone. This means that if you run into something in the field, you can give them a call and get talking to a live person who is there to help you out. As they like to say, they empower people, not machines. 
FieldGenius - Field Data Collection
Discover the boundless potential of the survey industry with the latest advancements in technology. As a trusted dealer of MicroSurvey's cutting-edge software, FieldGenius for Android™, you have the opportunity to offer your customers an unrivaled solution. Designed to be brand-neutral, FieldGenius supports a wide range of hardware options, ensuring compatibility with the diverse needs of your clientele.
With its map-driven data collection software, FieldGenius revolutionizes the user experience, providing an intuitive interface that minimizes training time for your customers. The seamless synchronization of data panels with the map display enhances productivity and ensures that both experienced professionals and newcomers can effortlessly navigate the software.
MicroSurvey's expertise in data collection shines through in FieldGenius for Android™. Our decades of industry knowledge have been meticulously applied to the Android platform, resulting in enhanced workflows that are more efficient and intuitive than ever before. By offering this software, you empower your customers to optimize their operations and stay ahead of the competition.
As a dealer, we understand the value of seamless transitions and minimal downtime. FieldGenius is designed to leverage your customers' existing skill sets, enabling them to easily upgrade their equipment or switch manufacturers without sacrificing productivity. MicroSurvey remains steadfast in our commitment to consistency, ensuring a seamless user experience across different devices.
Position yourself as a trusted provider of the latest surveying technology by offering FieldGenius for Android™. Empower your customers with a comprehensive and versatile solution that enhances their workflows, increases efficiency, and unlocks new possibilities. With MicroSurvey's renowned software in your repertoire, you can confidently guide your customers towards a future of success in the survey industry.
Here at Bench-Mark we have designed our support services to make learning FieldGenius as easy as possible. This includes our live tech support, live training, cheat sheets, and video guides. We want you to have all the information you need to make sure the software does everything you need it to. 
Our live training session occur several times a week and are live on Zoom. In these sessions, we go over how to set the gear up, how to create a new project, stake a point, and more. As there are often only 1-2 people in a session, you can ask questions to help tailor FieldGenius to your exact needs. 
Our comprehensive cheat sheet and video guides cover the most basic topics from changing your coordinate system to the most advanced functions in FieldGenius like calculating volumes. Each guide is curated so that you can easily find what you are looking for.