Description
Juniper Rugged Data Collection
Juniper Systems has been providing robust, reliable and rugged data collectors for the surveying industry since 1993. Many of the most popular designs that you know and love, are likely originially Juniper data collectors. This includes the popular Carlson Surveyor+ and Surveyor 2 data collectors, which are rebranded Juniper Allegro data collectors. Located in Utah, Juniper data collectors are both built and serviced within the United States, which means you get support and service in your time zone, there is no need to send anything overseas. 
Juniper strives to provide a hassle free, and easy to use data collection solution that can be customized to meet your needs. With a variety of different sizes, shapes and operating systems, you can find the data collector that meets your needs. This is all backed by their Juniper tough build quality, that ensures your data collector will stand up to whatever abuse you throw it on site.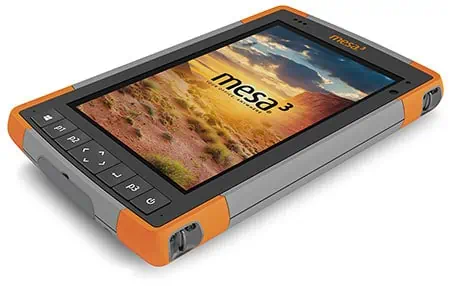 The Mesa 3 is a powerful handheld tablet that allows you to take the office with you and into the field. With a full Windows 10 operating system, the Juniper Mesa 3 allows you to run your favourite office computer applications including Dropbox, OneNote, FieldGenius and more. Built around the Quad-Core Intel Pentium N4200, the Mesa 3 has more than enough processing power to get anything you need done. 
With the ultra tough IP68 and MIL-STD-810G enviornmental dust, shock and water proof ratings, the MEsa 3 can take whatever you throw at. Whether it is a drop in a dusty field, a creek, or a concrete pad, you can be sure the Mesa 3 will stand up to whatever abuse you can throw its way. 
The Mesa 3 is also upgradeable to include a number of different options to meet your needs. This includes a cell modem, cameras, additional battery capacity, a GNSS modem and more. You can customize the Mesa 3 to meet your needs, with all the tools you need in the field. 
The Mesa 3 comes with all of the accessories you need to be sucessful in the field. This includes two different stylus options, a hand strap and the charger you need. With the styluses, you can find the one that works the best in your conditions, so that you never have to remove your gloves. With the industry leading Dragontrail High Ion Exchange Cover Glass, you get a screen that is extremely tough while also being easy to read and use. 
There are a variety of different accessories available for the Mesa 3, that include easy carry harness, pole and vehicle mounts and more. These optional accessories make it easier to use the Mesa while keeping your Mesa secure and safe. Ask our staff for more details on how we can help you take the Mesa to the next step. 
Juniper Systems has built a reputation around providing rugged and robust data collection solutions. Starting in 1993, they provided at first agricultural products to help with seed and crop management. However, they were soon approached by surveyors, foresters, and mining companies who had seen how rugged and tough their handheld devices were. This lead to the creation of some of the most popular rugged data collectors on the market including the Juniper Allegro 2 / Carlson Surveyor 2, the Archer 2, the Cedar line of Android tablets and more. All of these collectors have been proven to be able to stand up to anything that has been thrown at them. 
The company is headquartered in Logan Utah, and is proud to be a North American based manufacturer. This means that if you ever need any support or service, you can deal with someone in your time zone, and who is able to turn around any repairs within one day. So whether you need a software solution like Uinta, a handheld data collector like the Mesa 3, or a sub-meter antenna like the Geode, Juniper has a solution to help manage and track your assets. With lots of experience in a variety of industries, including; agriculture, construction, mining, oil, and more, Juniper can find a custom solution that meets your needs. 
At Bench-Mark, we have been a Juniper authorized distributor for over 10 years. We have supplied hand held data collectors, sofware packages and GNSS receivers to clients all over North America. We have built our relationship with Juniper on providing superioir after sales support and service to our many customers, no matter where they are located. 
The Juniper Geode GNS3 Sub-Meter Antenna
The Juniper Geode is a GNSS receiver optimized for GIS and sub-meter mapping applications. It is designed to be used in difficult enviornments and is fully dust and water proof, with an MIL-STD 810G and IP68 rating. The GNS3 is third itteration of the Juniper Geode, and has taken a lot of the lessons learned from previous models to create the best one yet. 
The Geode is the first 7th generation RTK reciever from Juniper. The GNS3 has the ability to receive corrections from all major constellations, and multi-frequency signals. It also has access on the upgraded GNS3M model to receive L-Band corrections from Hemisphere's Atlas constellation. 
The Geode GNS3 is designed to provide a stable, repeatable and reliable position to within a meter. Where SBAS corrections are available (which includes all of North America), accuracies better than 0.5 m can be acheived. With the ability to access Atlas corrections, accuracies up to 8 cm (95%) can be acheived on a standalone receiver.  
The Geode is designed to be entirely self contained, and exceptionally easy to pick-up and use. All the features and functionality you need are either on-board the reciever, or can be augmented by the completely free Juniper Geode Connect Application. 
The Geode contains an internal 6000 mAh internal Li-Ion battery that allow for up to 16 hours of use (GNS3S Model). With the universal micro USB connector it is exceptionally easy to charge the device in the field, or at the end of a long day. 
The Geode can connect to a variety of different programs, either as a Juniper Geode or an NMEA device. This includes popular programs like ESRI, FieldGenius, and Juniper's own Uinta. This means that you can work with the software you are familiar with. It is also compatible with Windows, Android and IOS devices. 
Unita Data Collection Software
Juniper has long been regarded for their sub-meter solutions and rugged data collector options. It was only natural that they would eventually come out with a software solution for data pickup. Uinta is perfect for those looking to quickly digitize the world around them and create custom reports for there clients. 
Uinta allows for the creation of cloud based electronic data entry forms that allow you to customize  exactly what your crews record, and see live updates of any entries. The point, line and area work allow you to quickly draw and customize your maps. The maps can quickly be exported to a pdf that allows you to instantly send reports to customers. 
Uinta allows users to quickly create points, lines, and areas using both internal data collector GPS or more accurate external antennas. These lines, areas and points can than have custom forms associated with them to ensure that all of your data is properly catogorized and associated. With the cloud connectivity, all of your data is instantly accessible at the office, and all other devices associated with your company. 
Uinta has pre-created and advanced templates for all sorts of different applications, including Utility Mapping, Asset Management, Irrigation, Natural Resources, Industrial Resources, Harbour Planning and Equine management. These advanced templates can be quickly customized to meet your exact needs. And if a template is not there for you, we can help you create one that meets your needs.